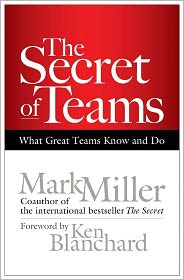 Mark Miller
, Senior VP of Leadership Development at Chick-fil-A gave me an advance copy of his new book, and I am glad he did. the Secret of Teams: What Great Teams Know and Do, is Mark's Second Book on Leadership and Teams. I love the way Mark uses a story to get his points and message across, as it is so relate-able.
In the story, the main character, Debbie, is faced with going out and learning what makes great teams great in order to develop a program in her company that will help their teams become more effective. Her company is starting to decline and her boss and mentor challenges her to help right the ship.
Debbie, and her team decide to go and "Learn from the Best" by visiting with a retired special forces general, a NASCAR pit crew and a restaurant that is part of a very successful franchise organization.
In visiting with these three completely different "teams" Debbie discovers that they all share some common characteristics; each group placed an incredible amount of intentional focus on making sure their team members were a good fit for their team (character, competency, and chemistry), each group also placed an equal amount of effort and focus on making sure their teams members had the right skills needed to perform at their best, through repeated practice, coaching and training; last but not least the leaders of the teams worked very hard to create a real personal bond between themselves and their team as well as between the team members as well.
Debbie realizes that the secret to getting great results is having Talent, Skills and Community, and that it is the combination of all three that is the magic formula. If any one of these is missing the team will never reach its full potential.
The Secret that is told in Mark Miller's book is very similar to the approach we use at
NovoLogic
, we call it Flawless Execution. and it was very reaffirming that the the attention we pay to selecting our talent, the systematic process of accelerating the experience and knowledge of our team members through briefings, and mutual support, and the community we develop through our work cycle debriefs and corporate values, is in line with what Mark has come to understand is responsible for High-Performing Teams.
If anyone would like to come visit and talk with our High-Performing Team,
just give us a shout
, we would love to share and help get some more people to join the Movement described in Secret of Teams: What Great Teams Know and Do.